Introduction
As part of our commitment to becoming "Radically Transparent" in how our company publicly communicates and shares information, we opted to forego our traditional "agency voice" case study in favour of capturing a long form interview with our clients at net2phone Canada (formerly Versature) about our partnership to produce their new enterprise website.

The content, below, comes from Jonathon Moody (President & COO), Marissa Homere (Director of Marketing), and Ziad Ghadbane (Product Marketing Manager) at net2phone Canada.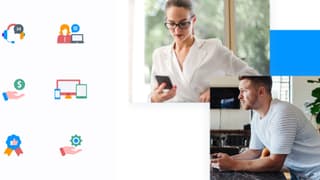 The Brief
Our website is the hub of both our digital lead generation activities and our customer experience in the form of logging in to our portal, finding educational content, obtaining support, etc.
Heading into this project, our primary concern was maintaining our organic and paid leads that run through the site; our tracking and marketing automation are quite complex, and we didn't want to lose any of that insight through the new launch. We wanted to create a site that lent itself to many funnel stages with more educational focus to attract prospects that were looking for a business communications service.
We also wanted a fresh, professional look that incorporated our parent company's brand, as the original look did not represent our scale and ability to service enterprise customers across Canada. And, last but certainly not least, we required a quality user experience on the ADMIN side...a content management system set up in a way that was fast, flexible, and easy to use for our team.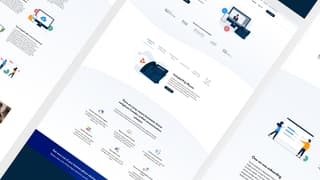 The Process
Following the Craft&Crew Enterprise Website Production Process helped force us to think about content-first, which ensured the design enhances the customer experience instead of being responsible for it. We had already completed in-depth audits on our site and provided C&C with our thoughts on the product strategy for our new website, which helped speed up their process and reduce the overall effort (and cost) by about 30-35%.
We did still engage their team to review the outcomes of our internal efforts to make sure nothing had been missed and that both teams were aligned heading into our project.
Information Architecture
The Craft&Crew team was instrumental in helping to guide strategic conversations that drove the overall strategy of the site. Getting stakeholder buy-in early allowed us to loop-in fewer people throughout the process and this sped up the more chaotic review phases on our side, as we were able to only have to manage a small committee instead of a large one.
Page Outlines & Wireframing
While our net2phone Canada team wrote all the content, the wireframing and content outline process helped us structure how that would look. We wrote all new content for over 200 pages, so this kept this process tight while still keeping sight of the overall goals of the site.

UX & UI Design
The new design incorporates both the brand identity of net2phone (global) while really giving our Canadian brand a separate, but consistent identity. One of our main differentiators in the market is that we provide Canadian support, sales, and service (as well as Canadian hosting, etc). We operate under a global identity of net2phone, but remain a Canadian company, and we were able to focus on this visually. The design was simple, but beautiful, and represents our ability to serve 1,000 person organizations, as well as 10 person organizations across the country.
CMS Set-Up, Development, & QA
Development was a breeze. The C&C team was super responsive and professional, as usual. And we have a super easy-to-use interface on the admin side which really helps things as it makes the site more flexible/accessible, which was one of our main goals heading into this project! During the QA phase, a couple issues came up, as expected, but this is part of the process, and we caught a lot thanks to the helpful nature of the C&C team and the dual review phase (their internal QA + our "user acceptance testing").

Training & Deployment
We had a full training session on the use of our new content management system, CraftCMS (no affiliation to C&C...at least that's what they say!), everyone on our team felt comfortable, and we shifted into deployment, which went incredibly smoothly.
What's next?
Well, now that we've launched it's time to see if those primary goals of ours are realized! We'll keep Craft&Crew honest and provide performance updates in a few months once our new-launch dust has settled. We're feeling great about everything, but I know that C&C works best when kept on their toes! ;)